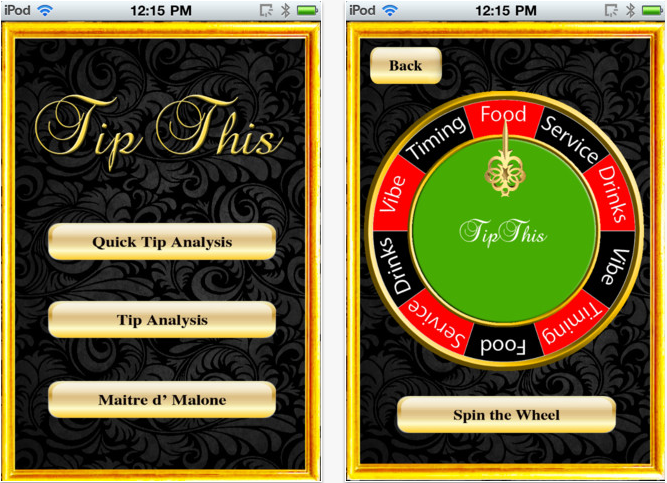 Tipping in the restaurants has always been a headache to me. I think, it is a hard art to master. When you have the right tool by your side, you don't have to spend time on these petty things. For tipping, I think there are some good apps – well, at least one I think.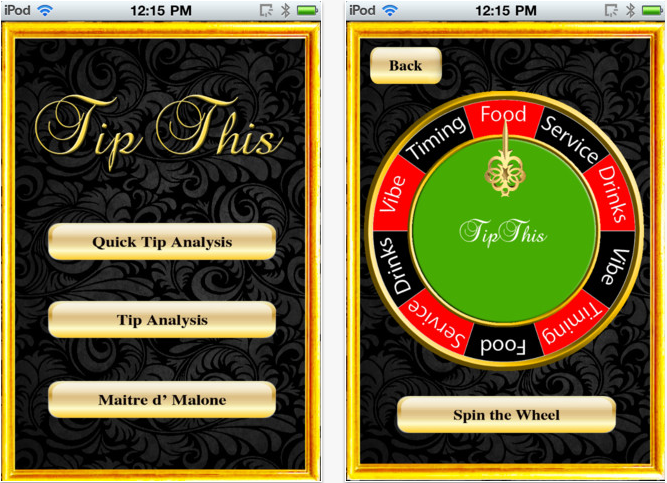 rel="nofollow>
Now you don't have to worry about this. There is an app for it. Yes its the "Tip This" app, which makes all the computation on how much you need tip in a restaurant, based on many factors. You go to restaurant, you have all the food and drink that you want, but you don't know how much to tip the server. This is where the "Tip This" app comes to play.
Now lets see how it helps. Once you open the app, you have three buttons, "Quick Tip Analysis", "Tip Analysis" and "Maitre d' Malone" . Using the "Quick Tip Analysis" you need to answer some simple questions, like " Did the meal or any part of it end up in your lap ?" . After you have finished answering all those questions, it will ask your bill amount. Then it will calculate the percentage and the exact amount you need to tip. But it calculates only for US dollars, what about the rest of the world ?. It would have been better, if it has all the currencies of the world.
"Tip Analysis" takes to a spin wheel which has "Food", "Service", "Drinks", "Vibe" and "Timing". After tapping on the "Spin the Wheel" button, it spins the wheel and after the wheel stops spinning. You will be shown which word the pointer shows. Then you will be asked a number of questions. After selecting any of the numbers displayed in the bottom. To my surprise, it didn't ask the billing amount, instead it returned back to the spinning wheel. The "Maitre d' Malone" has some info about the app and "Service", "Food Glossary", "Beverage", "Bio & Reviews" and "Contact" sections.
The UI is fine, but the "Quick Tip Analysis" does not have the "Back" button. But it does what it says. Even-though its price is a bit higher, for a single function app. Those who don't know how much to tip, give "Tip This" a try.
Price: $2.99
Rating: 3.5/ 5

rel="nofollow>