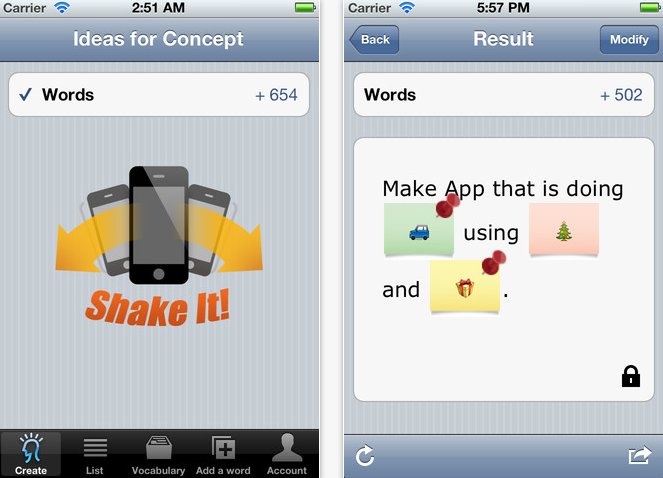 Experts are out there to help people whenever they need guidance. However, now you can get ideas from your iPhone with "Ideas for Concept" app developed by Appitaizer.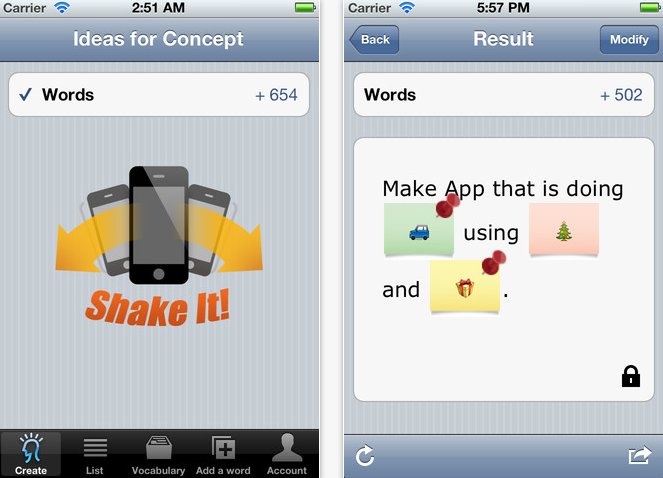 rel="nofollow>
First you have to register to use Ideas for Concept. Then, all you need to do is shake your iOS device or tap on the "Shake It!", in order to get an idea. You can also refresh and modify your ideas. For example, if you get words such as "thoughts" and "has" and you want to get a new idea with "thoughts" then you have to lock "thought". Eventually, this app would provide an idea/ concept like 'thoughts has different colors'. If you like it, you can save it to the 'List', or share it with others through MMS or email. It will help you get an opinion from your family and friends. This app already has more than 650+ words in its "Vocabulary" and you can also "Add a word" relating to your field. Ideas for Concept also lets you share through Facebook and Twitter, which you can setup in your "Account". It also has sections like "How to"(help) and you can'Tell a Friend' about this via Email or SMS.
The UI of this app is easy-to-use. You can 'Modify' your current idea, if you want. Also you can 'edit the template' and customize it. The symbols shown in the ideas are easy to understand.
Ideas for concept can be used for getting complex ideas, like 'how to create an iPhone app' and other professional ideas. From my point of view it can be used for getting ideas, which you cannot even get from experts of various fields. Not only experts, but everyone can give it a shot to get ideas from their iPhone.
Price: $1.99
Rating: 4/ 5

rel="nofollow>