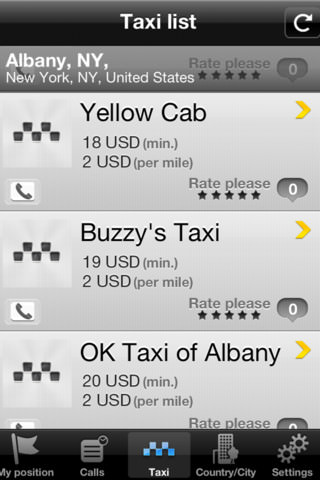 What Is The App All About ?
Taxi INT (international taxi service) by BeSoft, is a location based Taxi service app.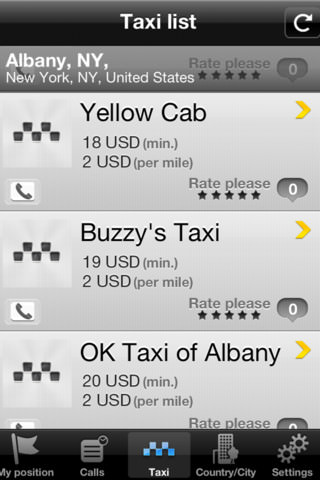 What Is So Unique About The App ?
It detects your location using GPS, and based on that, you can call a Taxi service, that is listed in the app. It works in all major countries. Its database is constantly updated.
How It Works ?
Its work flow is very simple, you can find your location in the 'My Position' tab, once you find your location, your address will be shown on the top of the screen, it will be helpful for you to guide the taxi driver to your place.

Next is the 'Calls' tab which will show the calls you made to the taxi services listed in the app.

Then comes the 'Taxi list' where your current location will be shown above and the taxi services in that place will be listed below, out of which you can choose/call the one you like, each one will be rated by other users like you.

Suppose if you travel to another country/city then you can go to the 'Country/City' tab, then select the country where you are then the city, thus you can corner in on the taxi service that is available there.

If you tap on the name of each taxi service that you want there you will find the phone number of it, and you can leave your comments about their service, share it on social medias like Twitter and Facebook.

Finally you have the 'Settings' tab, where you can set the app to update its database whenever you shake your iPhone or switch it off and manually update it. Also you can give all the credentials of your social media sites here. If you face any problems with the app then you can report it by using the "Report a problem" button at the bottom of this page.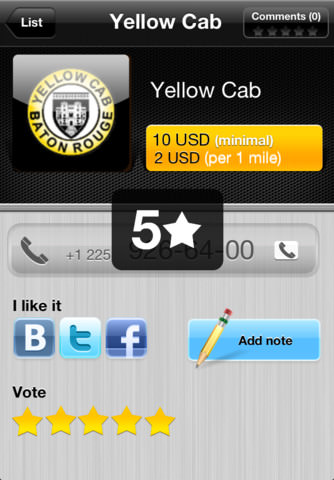 What Is So Cool About The App ?
I have never seen an app like this, that connects the Taxi services of several countries together like this app.
Where Do They Need To Improve ?
They have to include more countries so that, it might be useful for a person who goes on a world tour.
Comments
This app is meant for people who travel frequently.
Price: $1.99
Rating: 4.5/ 5