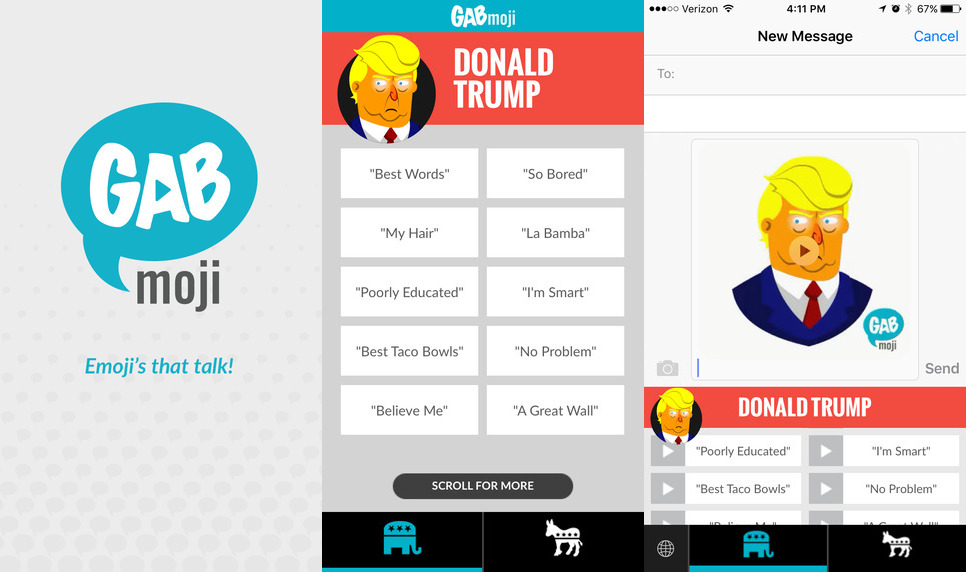 If you are an emoji lover, then you better not miss out on what Gabmoji has to offer. This is because it is an app that adds its own unique animation, sounds, and voices to your emojis. Don't expect to get the standard emojis that you are found in most messengers, though, because Gabmoji actually makes use of popular culture celebrities.
These titular "Gabmojis" are far more interactive because of the way they are able to deliver their lines with believable voices and animations. As of this writing, the app leans more towards the political fever that has since gripped America on the onset of the 2016 presidential campaign. This is why the current roster only includes the three prominent presidential candidates in the said campaign: Donald Trump, Bernie Sanders, and Hillary Clinton. The app's developers intends to add more celebrities and personalities in the future, though. With the way these Gabmojis are excellently depicted, that is certainly something to look forward to.
The app has its built-in keyboard for easy choosing of the personality that you want. Once chosen, you will be given a preview video of how the specific Gabmoji delivers its line. Afterwards, you can immediately opt to share them with your friends in social media or online messengers, as long as you use messaging platforms that support video files. A Gabmoji's video format is one of the factors that serves to make it different from average emojis.
The app pokes fun at the myriad noteworthy, controversial quotes of all three, from Clinton's "Email You", to Sander's "Greed is not Good", to Trump's "A Great Wall". Half of what makes this app win is how it doesn't take long to dawn on the user that such quotes actually fit everyday situations in our lives. Add to that the fact that their voices match the personalities they depict, and you pretty much have a perfect emoji combination.
Indeed, the obvious unique characteristics of a Gabmoji is its voice and animation. Other messengers may have added these aspects in the past already, but this app's execution is clearly more sophisticated. The app's centering on politics and the 2016 presidential campaign's frontrunners is also part of what makes this app stand out from the rest. It gives anyone who has been closely following the campaigns (and misadventures) of the three a chance to share special humorous interactions with others who have been doing the same. With that said, if you have been meaning to add comedic spice to your serious and stale political discussions, there's no better emoji app that you can ask for.
Price: Free