About The App
Free Music Download Pro + By Apps2Be is a music downloader and player. You can download both free and legal music and video, sort it out in various order and play them. It mainly focuses on free and legally available music as those will not create copyrights issue.
How It Works
When you open the app you land on the 'Browser' page which has the list of Frequently Asked Questions which answers all your queries. From there you can also go to the support page. Next is the 'Downloads' tab which takes you to the page which has the list of downloaded songs and videos. This also has a clean up and Now Playing button on the top. Next comes the files tab where you can sort the the files according to Name, type, size, and date. After that is the Playlist tab which contains all the playlist created both using this app and the iTunes. And finally 'More' which has 'Songs' , 'Artists','Albums','Videos' and 'Settings'.
When you tap on 'How to download music? It shows a list of sites from where you can download songs. And you can download video from anywhere except YouTube. The specialty of the app is you can download multiple songs/videos at the same time. You will find the progress bar and you can cancel, pause, and re start the download. Its really fast. They video will be displayed in thumbnail format.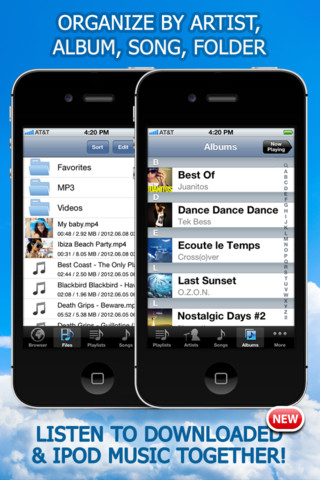 It is also a full fledged audio as well as video player, it shows the cover picture of the album and also displays the lyrics, it has a timer, equalizer. It supports Wi Fi & USB transfer of songs from the app to your computer and vice versa.
Verdict
Every single function of the app is being done after greatly exploring the needs of the user. I really appreciate the developer for that. The way the user interface and graphics design are sketched out is great. Kudos to the developer.
Price: $0.99
Rating: 4.5/ 5