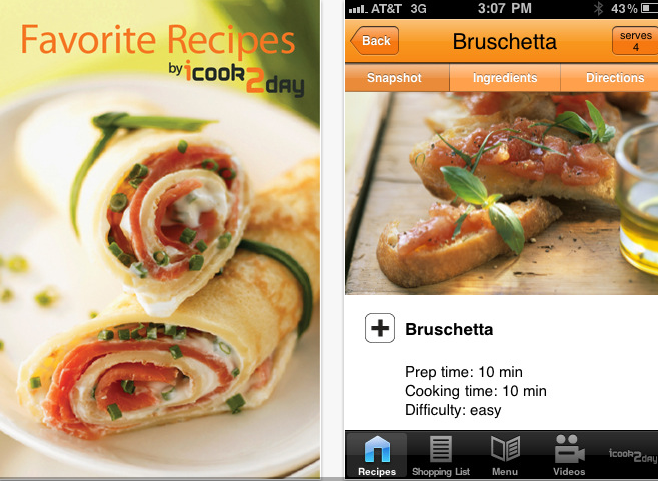 Are the traditional recipes you've been cooking for years now wearing thin on your family's enthusiasm at meal times? How about spicing up appetites by exploring the best of different cuisines? Favorite Recipes is the best way to explore 70 of the world's most exotic delicacies.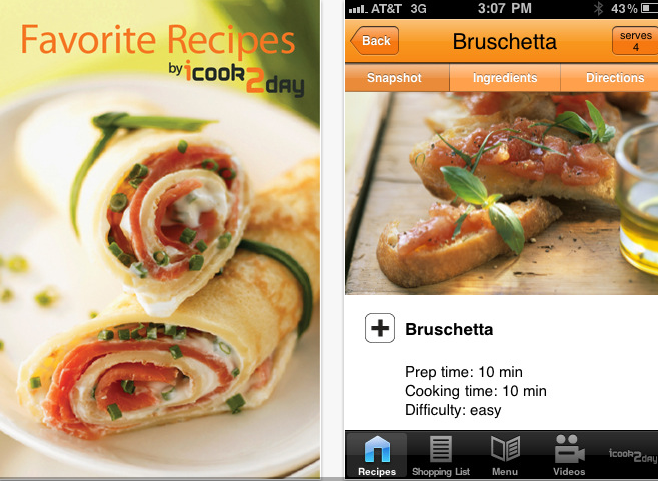 rel="nofollow>
Developed by CulinartMedia for icook2day, this app also finds a top spot among other popular cooking apps by the same developer, Great Maine Food rel="nofollow> & Great Backyard Grilling. Having reviewed these 2 iPad apps earlier, I couldn't wait to get my hands on Favorite Recipes.
The app's delicious splash screen will make your mouth water at first sight. The 'Recipes' section has 70 prized recipes from international cuisines grouped under categories such as Appetizers, Soups, Salads, Side Dishes, Desserts etc. Each recipe has 3 options – Snapshot, Ingredients and Directions.
'Snapshot' has a photograph of the finished dish and some basic info like preparation time, cooking time and the difficulty level. There is also a '+' symbol which can be tapped to get sub-options such as Add to Menu, Add to Favorites, Add Note, Email and Facebook. 'Add to Menu' and 'Add to Favorites' can be used to add recipes to the respective sections. 'Add Note' allows you to make a note of little details that you wouldn't want to forget. Recipes can be shared with friends and family using the sub-options 'Email' and 'Facebook'.
'Ingredients' has a a list of all items used in the dish. You could add all or specific items to your shopping list, right from this sub-option. 'Directions' gives you the instructions for preparation and cooking. You could view the instructions in the portrait or landscape mode of your iPhone. The landscape mode has photographs in addition to the instructions.
The next section after 'Recipes' is 'Shopping List'. Here you can choose all ingredients of a recipe or specific ones and add them to your personal shopping list. The 'Menu' section contains the recipes you have added to it. The highlight of the app is the 'Video' section which contains videos on Chef Michael's tips to cook bacon, broccoli, chicken soup, crepes, oysters etc.
As Favorite Recipes does not have a search option, you need to go through the entire list in each category to locate a particular recipe. Invites for special events could be easily sent in the apps Great Maine Food and Great Backyard Grilling but this feature isn't present in this app. The app comes with an ingredient calculator which tells you about the quantity of ingredients to be used based on the number of servings. However, the flexibility of the app could have been improved in the case of certain recipes which come with fixed serves.
This app is a unique guide to the best cuisines from around the world and I recommend it to globetrotters and foodies, who love to taste the best of everything the world has to offer. Undoubtedly, another great app by CulinartMedia.
Price: $ 0.99
Score: 4/5

rel="nofollow>