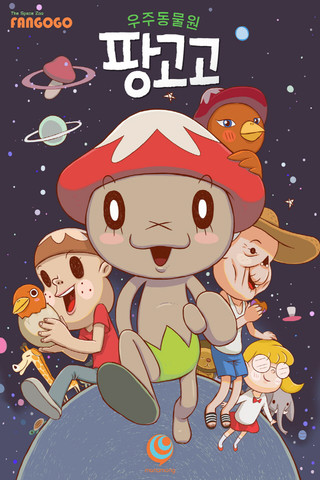 About The App
Space Zoo Fangogo is a books app developed by Manamong. It is the story about the fun of space creatures.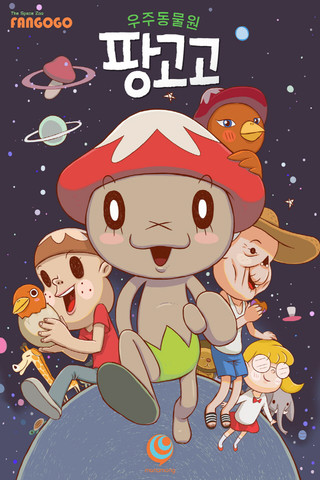 Inside The App
As this is a book app you need to download this app from the newsstand. In the home screen you have two buttons in the top, "Refresh' button in the top left and the "Subscription" button in the top right. Using the Refresh button you can refresh and see whether there is any new books in the book list and using the Subscribe button you can subscribe to the free subscription .There are stories available in various languages like Korean, Japanese, Chinese and English. You can download specific chapters of the stories available as individual parts.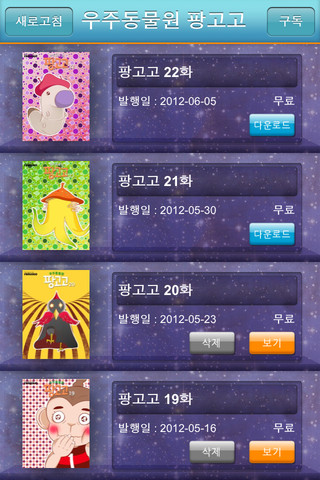 Inside the story you have a navigation bar that will pop up from the bottom, if you tap there, using which you can easily reach to any part of the book easily without having to scroll through. In the top you have a 'Home' button that will take you to the home screen from any where in the book and another button that will take you to the chapters list and a bookmark button., a bookmark list button and finally a manamong logo as a button. Using the bookmark button you can bookmark any page of a book and read it later, when you tap the bookmark list button it will display the bookmarked pages in thumbnails, finally the developer icon – tapping on which you will be taken to the app and developer details page. 
Space Zoo Fangogo is different from other books that has static contents. The book contains interactive contents, like interactive multimedia contents, like videos presentations, 3D backgrounds and also has puzzles in-between Also I must mentions about the wonderful background music that attracts the kids. The 2D animations are cool to the eyey. The characters and the story are really funny and easily attract kids.
Verdict
The background graphics, music, videos. And all menu's and the theme's color used is pleasant to the eyes. It deserves 4 out of 5.
Price: Free
Rating: 4/ 5