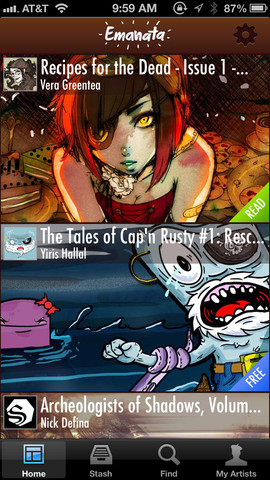 About The App:
Emanata Comics is a books app developed by Emanata, Inc. Its a indie comics book app.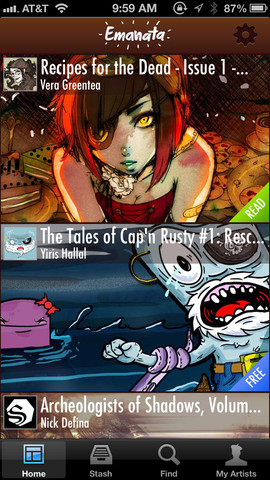 Inside The App:
This app is a indie comics book app, in which you can buy books through in-app purchase. You also have free books available inside the app itself. When you tap open the app you land on the home screen where you have the books list. In the bottom of the screen there are four buttons, the home button, stash button, find button, my artist button. When you press the home button when you are in any other pages it will bring you to the home page. When you press the stash button it will show the stories you have purchased. When you tap the find button it will take you to the find page where you can search for the name of the comic you want. The last one is the my artist button pressing it will show the list of your favorite artist which you selected.
After selecting and opening a comic you can move from one page to another by flipping. There also another method to move more than one pages at a time. By tapping on the screen of the comic you get the option of navigation bar which shows the thumbnail of all the pages in that particular comic, so that you can move either left or right and move as many pages you want. Also you get the details about that app that will pop up when you tap. It will have the name of the comic, its author, a brief description, an option to select the artist as your favorite. Home option to go to the home screen, you can share it Facebook, Twitter, Email, and also visit the Artist' site.
Verdict
The UI is simple and easy to use, but it lack the help section. So I give it 4 out of 5.
Price: Free
Rating: 4/ 5