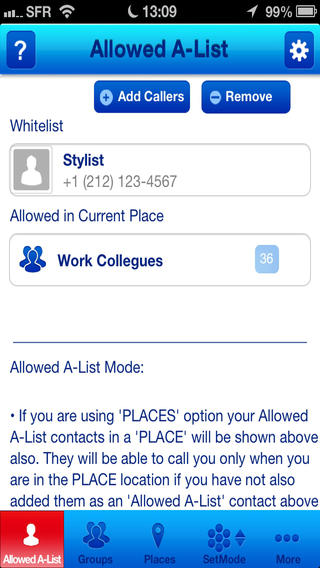 Sometimes, picking up calls can be tiring and sometimes, as much as we want to, we just can't pick up the iPhone because more pressing matters are at hand. We have all been through one and the other and it really isn't a good feeling to hear the phone ringing and you don't or can't really answer the phone. In lieu of having to philosophize too much with that, Babafemi Olu has made the right tool to cure your suffering from any or both cases. And that would be VIPaList.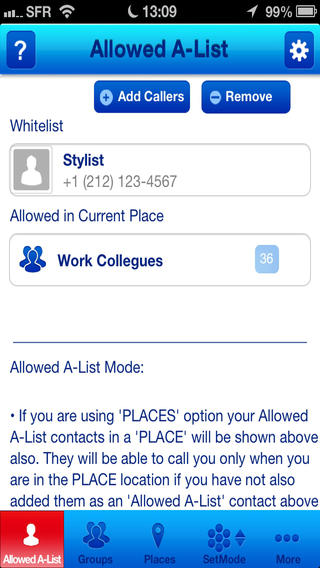 The Conception:
We all know that there is always the voicemail box. When we don't get to pick up calls for various reasons like busy working on paperwork, away from the phone for a bit, asleep or currently not in the mood, all the missed calls go to the voicemail box. Sometimes, it is not really our intention to linger on missing and dodging the calls because there are cases when we get to forget to set the phone back on a normal sounding profile over the silent one. And therefore, VIPaList's conceptualization mainly revolved around ensuring your calls stop going to voicemail when the clock is set to run your pick-up activity back up.
The Features:
VIPaList goes for both qualitative and quantitative reasons. Normally, when you set your phone on silent, it will go silent to all callers unless you put the sounds back up again which will automatically be applied to all your callers. In order to not put up with that kind of problem again, here are the features of the app that would surely throw you off with amazement:
Allowed List:
The Allowed List features lets you handpick the contacts you want to entertain and not for calls. It also allows you to suppress all caller groups in a single click the same way you can restore the previous settings back.
D-List:
The D-List is something that will support you in your activities by either setting the silent mode off or on for specific people or for everybody. Basically, if you check into your phone that you are at the office, watching a movie or anywhere else, the phone will turn the silent mode on or off automatically when you've just started doing or finishing something.
Mapping:
This feature allows you to name new places that will be applied with the D-List or Allowed List.
Groups:
This is to let you set the silent mode on or off to groups of people.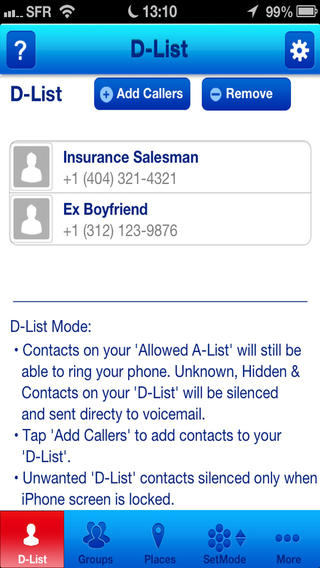 Silence Any Handheld Phone Calls:
If you think landline calls are of better import during an interim, simply shut off your hearing from cellphone calls through this feature.
Silence Landline Calls:
If you think landline calls are canny knowing that most of your contacts are mobile inclined, simply dodge landline calls with a single click and check them out when you have time to make considerations and affirmations.
Silence International Distance Calls:
If you have a friend from Australia or Canada or from other parts of the world that you met online and you can't seem to stomach having to talk to them voice to voice, you can opt to silencing IDD calls with VIPaList.
Silence Viber and Tango Calls:
Ahh, the free calls and texts for as long as you have your iPhone or Android or any smartphone device on. Chances are most of your contacts through Viber and Tango are the ones who are lesser import, like maybe sheer Facebook pals? Well, you don't always have to mix them up to priority when you can silence Viber and Tango calls.
Silence VoIP, Premium Rate and Hidden Numbers:
The biggest probability about premium rate calls and hidden numbers is that they come from an outsourcing company promoting a free cruise ship trip which doesn't really exist. Or maybe offer you a full speed "dial-up" connection which is totally way out of date and you definitely don't have time for that. Resist these calls through VIPaList.
In addition to the above given features, your iPhone won't be prompted when it's on silent by the VIPaList app. It is only when you turn the screen back up that it will enlist the calls you have missed and your voicemail messages.
Price: $1.99
Rating: 4/5