I earn some good money. But still I find it difficult to deal with debts. It is really a complex job, I think – numbers, debts, dates etc., Debt Buster has a solution.
Debt Buster is a new app, launched only a few days ago. Let me review it today. This app guides users to repay the debts. It has four main sections – Home, Budget, Tips and Settings. In the Budget section users can add their monthly income and expenses. It shows a chart based on their expenses and it also shows the balance. Users can mail this statement from this app.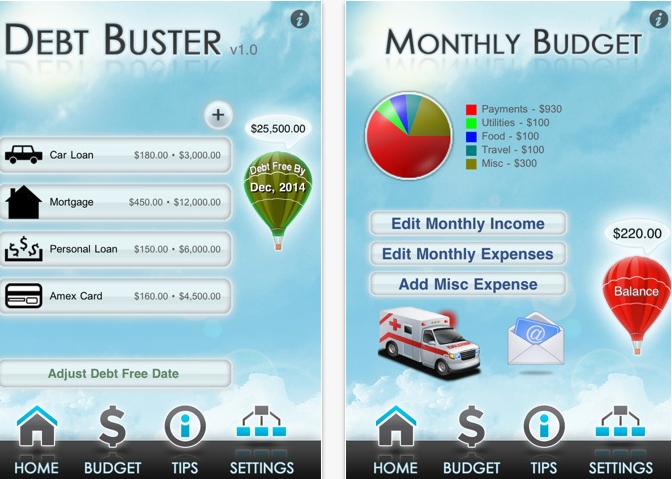 rel="nofollow>
Home section helps users to add the debt details. It is just a process of filling some basic things like bank name, account number, APR etc., After adding them, users find the list of debts in the home screen. There will be a balloon on the right side to indicate the debt free date. Green balloon is a good sign. Red one demands some serious works to pay your debts. When users begin to repay the debts, the balloon will change color and begin to rise (look at the image). Users can alter the debt free date by tapping the balloon or the 'adjust debt free date' button. It will recalculate the monthly payments according the adjustments.
Find it difficult of fight with debts? There is a dedicated Tips section to give you "Money Saving Tips". There are some interesting suggestions like using price comparison sites, zero interest credit cards etc., Passcode Locks and Automatic Notifications can be enabled through the Settings section. It also has a tab to change the default currency. More than 100 currencies are available to choose from.
The price of Debt Buster has come down to $2.99. So I think it is a good chance to grab it.
Rating: 4/ 5

rel="nofollow>