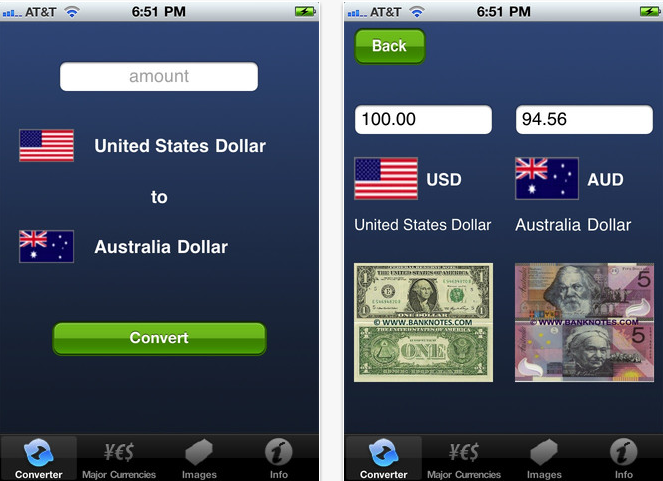 When you travel abroad, you always have to exchange your money at the airport or where ever you exchange it. You have the problem of calculating its current value. And now there is a solution for your problem.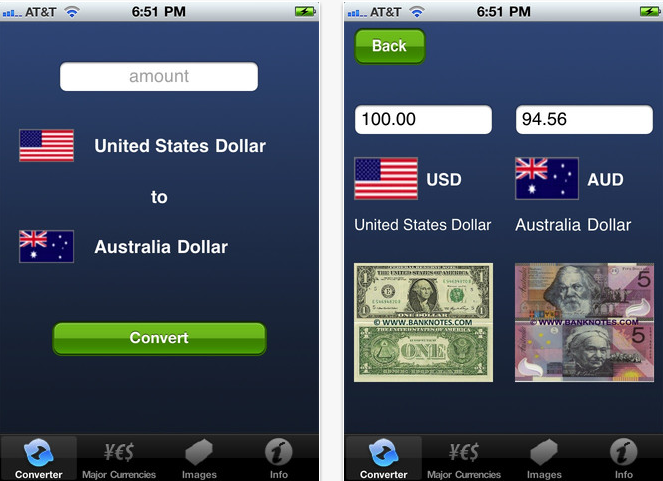 rel="nofollow>
TechniXoft have come up with a solution for this. Its "Currency Banknotes". And its an easy and clever way to converting your currency. It not only converts your currencies, but also shows how your currency and the converted currency will look.
You can convert your currency's value to one country's value at a time and also convert it into ten major countries at a time, all just with a single tap. All you need is to select the countries from which you want to convert into which country's value. And enter the amount, then tap convert. Then in the next screen you will find both the country's value and the front and back side images of both the country's currencies.
The most cool feature, that I liked the most was the "Major Currencies" . In which you can convert up to ten major countries currencies with one touch. Well if you don't know how a specific countries currency will look like, then the "Images" feature will help you by selecting a specific country currency code or that countries name. You can look at the image of that particular currency.
In the "Info" tab you have a detailed help, for first time users of this app. The user interface of " Currency Banknotes" is quite simple and user friendly for even the people who use it for the first time. You don't have to search for anything, all the features are provided in four easy to access tabs.
I strongly recommend this app to people who often go abroad. This app has features more than its value. The developers have offered a 75% limited time offer on this app, in which you get it for just $0.99 instead of its original price $3.99. Globetrotters just hurry and get it.
Price: $0.99
Rating: 3.5/ 5

rel="nofollow>