Sometimes I feel that Apple should have worked more on its Contacts app. I think it is an ordinary app for an amazing device like iPhone. So I searched for an option in the App Store and found an interesting app called ContactsP 2.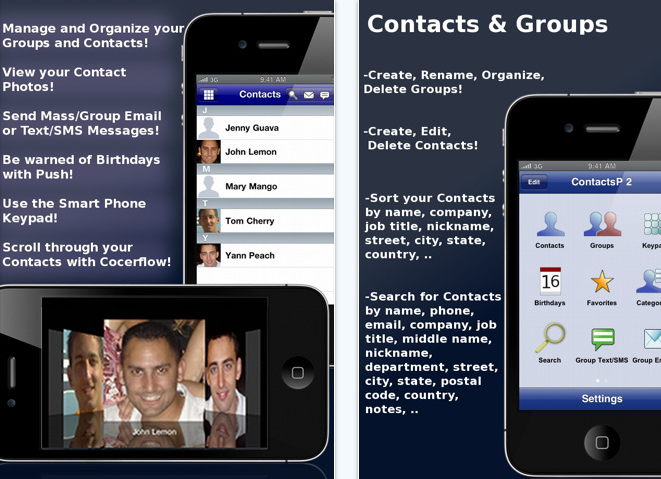 rel="nofollow>
It really works well for me. It has nine default shortcuts in the menu for Contacts, Groups, Group SMS, Group Emails etc., and the users can add or remove them according to their choice. Adding a contact to ContactsP 2 is easy and almost like adding them to the regular contacts list. Settings in ContactsP 2 allow users to edit theme, text size, photo size etc., They can sort and search the contacts by name, company, email, phone number etc., It gives the option to scroll through the photos with Cover Flow.
It has Smart Phone Keypad to suggest numbers as you press keys and a Smart Group for the contacts who don't belong to any groups. No need for users to import contacts from the regular contacts app. ContactP 2 will do the job, once it is installed. Birthday Notification and Groups are considered as the must have options for any organizer app now. ContactP 2 also has them and you can edit them in a simpler and smarter way. ContactsP 2 is compatible with iOS 3 or later versions. But some facilities like sending text messages etc., are available only for iOS 4 users.
Cost: $0.99
Rating: 3.5/5

rel="nofollow>
Contacts is one of the earliest options available with cellular phones. But smartphones need some smart apps like ContactsP 2 to deal with your contacts.