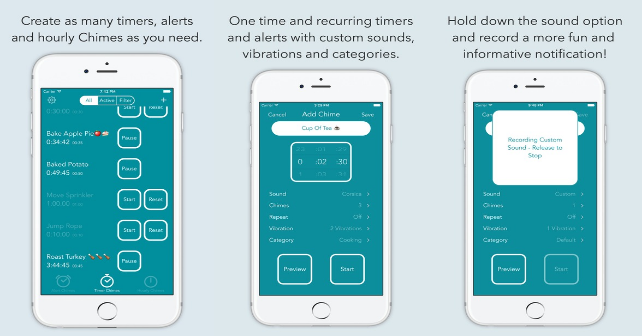 Many users may not be fully aware of it, but they're actually missing out on a lot of what third-party click and timer apps have to offer if they only settle for the default clock app found in their iPads and iPhones. This is because most of the said apps actually take the liberty to include features that many users would find not only useful but are simply better overall (especially if their unique chimes and sounds are considered).
A good example of such an app is Chimed. It is basically a clock app that offers multiple options when it comes to setting up your alarm for the day, your timer which can be used for myriad purposes, and your hourly chimes which simply remind you of the passage of time. All of these can be set up by creating Chimes that include Alert Chimes, Timer Chimes, and Hourly Chimes.
Each one has its own parameters that you can set. If you're setting an Alert Chime, for instance, then you have to pick a sound you like, number of chimes, choose whether you want it to repeat or not, set a follow-up, as well as set a category for it (eg. for Cooking, Workouts, AM or PM Alarms, Gaming, etc.). This way, you can easily access them through the said categories.
It's worth noting the Timer Chime in this app actually allows you modify the seconds as well, besides hours and minutes. As for Hourly Chimes, you may not only add separate sounds for each hour but you'd also be able to add corresponding vibrations to them too.
There is even a silent alarm option that involves choosing and customizing your own vibrations. Each Chime can be modified with a single tap, and you won't have to manually close an alarm or timerjust to disable it. And, of course, what timer clock doesn't include a snooze option? Chimed seamlessly incorporates it in such a way that you won't have to keep the app open just to enable the said option.
What makes the app even better is that it also allows you to record your own custom sounds. This is highly significant as there has never really been a default option for users to create their own sounds for their notifications. You only need to connect a microphone to start recording your own sounds and you have the option to delete or save them promptly as well.
The Pro version of the app is worth getting as it really unlocks the best sounds and design options that the app has to offer. It also effectively gives you the ability to create an unlimited number of Chimes for various endeavors. The Free version has only a limited number of sounds available in the first place and only allows one chime to be created, so opting to go Pro is the logical choice if you've come to love the app and intend to use it for a long time.
If we are to set Chimed against other clock apps available in the App Store, its built-in audio recorder, plethora of original sounds, unlimited Chimes (Pro version only), and its timer that allows you to edit the seconds. It's, simply put, a better option than your standard Apple clock app, which is why if you're still using the latter, then it's high time for you to start considering getting Chimed instead.
Price: Free