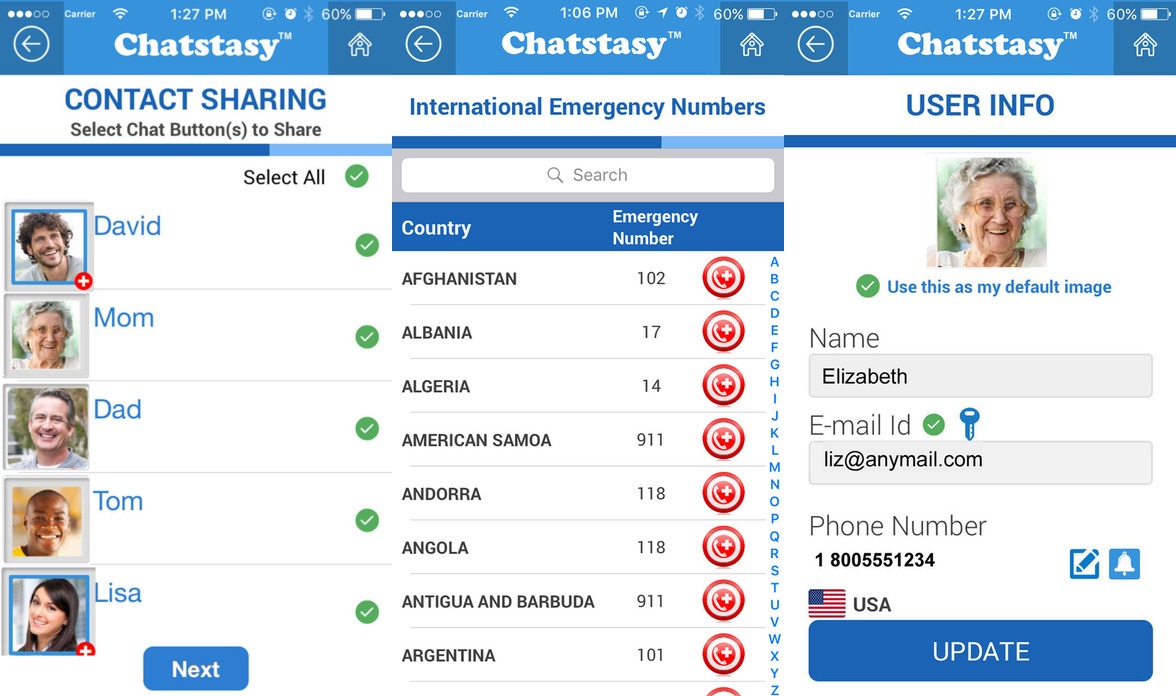 Have you always wanted a chat or calling app that is, simply put, simpler? Something that even your grandmother who already has poor vision or your grade school child or nephew wouldn't at all find hard to use? If you answered in the affirmative in both or one of these questions, then you should definitely consider a more useful alternative for them. And, since Chatstasy is practically built and designed to address this very issue, it would be safe to say that you need not look further than this app to help your loved ones chat better.
For one, Chatstasy prioritizes the inclusion of larger picture chat buttons, so you'll be able to instantly contact anyone via text message and call with a single tap of a button. These buttons make it easier for you to identify your contacts too. What's good is that you can actually upload your own chat button directly from your gallery or camera for any contact you choose to add to the app. There is a substantial number of clip arts you can choose from as well for this purpose.
The pertinent information about all your contacts would be carried over, sparing you from having to enter them manually. Know someone else who uses Chatstasy and wants to use the same chat buttons that you've set? This can be smoothly addressed too, as the app allows users to share chat buttons with each other.
The incorporation of an extra-large dial pad also ensures that your text messages can be easily viewed, without the hassle of straining your eyes, which is almost always the case in even the most popular and widely-used messenger apps. With a single swipe, you can promptly change from text-based to number-based dialing.
Chatstasy also evidently places importance of being vigilant about one's current state of health. If it happens that the user is placed in a scenario that would require to seek medical attention immediately, know that this app also has an Emergency Call button that you only need to press once to alert the nearest available ambulance to come to your aid. You only need to press the red Emergency button below the app's interface to do this. Of course, you have to set a number for this first, which isn't at all hard to do as well.
Know that you can also set certain contacts as emergency contacts, which the apps send notifications to in case you are placed in a dire situation. And, not to mention the fact that the app also has a separate Emergency Calling feature, wherein you only need to tap a chat button twice to notify that respective contact of your emergency.
What makes things even greater is the fact that you can also send free text messages to each other internationally and domestically with this app (this applies Chatstasy users only). Any user may freely create and store custom messages that they can instantly send to their contact, without having to type them again.
When it comes to contact management, the app's Premium version also takes the liberty to prevent you from losing your important contacts by allowing you to enable notifications every time a phone number of one of your contacts was changed. Contact numbers can be easily updated with a single tap as well. Other notable Premium features include cloud backup and a chat button restore.
What surely defines Chatstasy as an app that stands out from the rest of its kind is its focus on aiding elderly and young people in their chatting and calling endeavors. Messaging is an act that we do on a daily basis in these modern times, and it's only right for apps to start catering to people who are handicapped, one way or another. That being said, this app deserves all the praise it got, and it is bound to receive in the future.
Price: Free