When it comes to camera and its features iPhone lacks a way behind other competitors. Before some days I found an app, which looks brilliant at play and I thought of sharing some insight views about the app Camer Genius developed by CodeGoo rel="nofollow">. Its clear many are not satisfied with the native camera features, so many opted for third party apps to enhance the camera features and one such app is Camera Genius. Unlike other camera apps, Camera Genius replace the iPhone native app and its functions with its own features and options.
Camera Genius is not a new app rather its an old app, but recently they released version 2.0, which fixed issues happened with the previous version. The version 2.0 has added more functionality such as editing time and location stamp, add captions, options to add time stamp and location to the picture. They had added a common feature by letting the users to decide which photos to be saved or deleted and sharing of photos by email. The features doesn't stop here, there are still more like enhanced camera zoom, new redesign of user interface and timer to take grouped photo.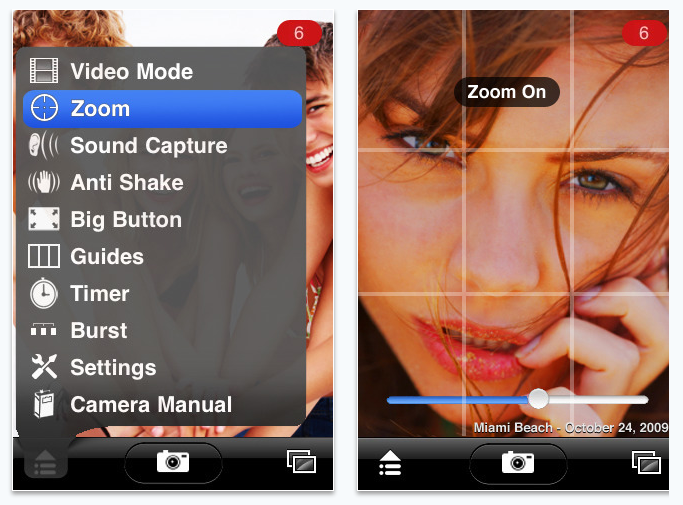 rel="nofollow">
The interface looks neat and well designed with three options at the bottom. Those three options are features, shutter and camera roll which opens the saved photos in your iPhone. Once you tap the features button, it will display a list of 10 features. If you are not able to use any feature, head to camera manuals to understand the functions of the features offered. The information on the manuals are very helpful to take a better snaps using Camera Genius features.
Unlike other camera apps, Camera Genius has a big shutter button to take pictures easily without any disturbances. The notable fact of this app was its features work as its advertised. I checked the zoom and it worked really well. So overall everything is perfect about Camera Genius and there is no such notable issues with this app. Priced reasonably at $1.99 its a must have app for your iPhone for taking better pictures.
Cost: $1.99
Download from iTunes rel="nofollow">