Brushes iPhone Edition lets you paint the images or objects you are seeing anywhere, anytime on your mobile device.
Brushes is a painting application designed for artist, painters and designers. The app is made for the iPhone and iPod touch particularly as there is an iPad version of Brushes. Brushes has got intuitive interface and drawing tools to tap your creativity in artwork such as painting, design, etc.,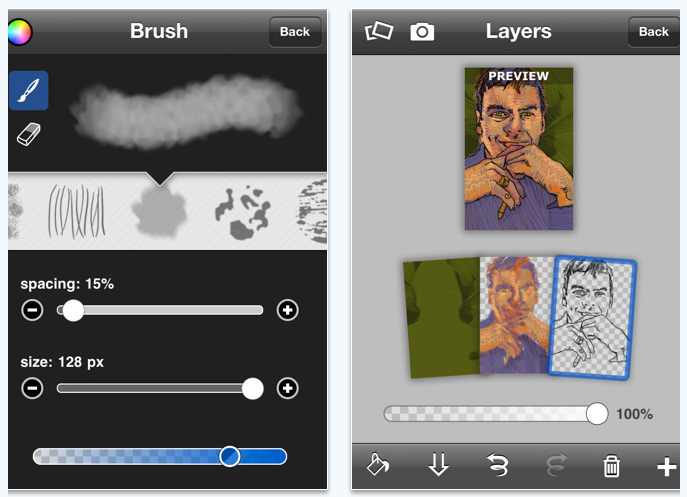 rel="nofollow>
Features:
High-quality brushes with an erase mode.
Layers . You can rearrange, merge, fill with a color, and adjust transparency.
Copy and Paste layers between paintings
Import multiple photos as layers
Desktop-class color picker
Undo and Redo
Slideshow mode
Brushes starts with a gallery where you can store your drawn images, it has also come up with some sample painting done by different artists. You can store and view your drawn new images and even play a slide show of all the Image.
To start your new creation, you can either start new or load a picture from your photo album and paint over it.
You can use your creativity to pick up the right brushes. Choose the size of your brushes, starting at 1-pixel in diameter and going all the way up to 64 pixels. You can also use the bucket tool to fill the canvas with any color. Make use of the slider for bringing some light or darkness into your images.
Credit: Punkdoggy800
I tried painting on my iPhone and I never imagined that I could draw nice creation of images with full of strokes and colors. This app makes it completely possible to tap our creativity on drawing or some new paintings. I have tried all the best features in Brushes and I came up with my own creation of paintings. I am really impressed with the features  and it has driven me the curiosity in painting. If you are an artist or a web designer. You will certainly enjoy this app.
Cost: $4.99

Requirements: Compatible with iPhone, iPod touch, and iPad. Requires iPhone OS 3.0 or later.

Rating: 4+

rel="nofollow>