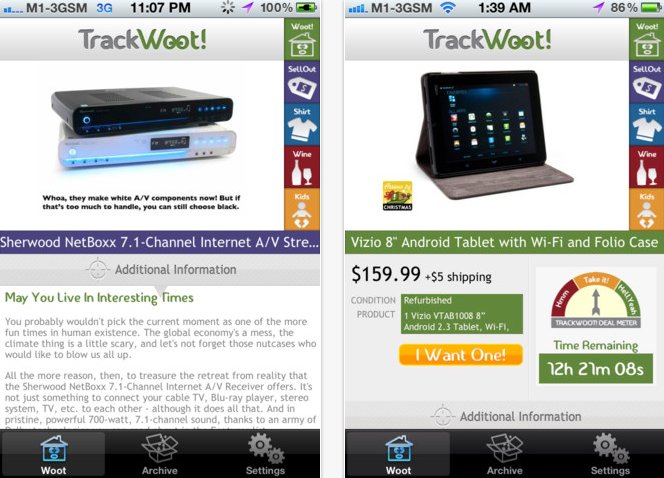 Do you like online shopping? Then you would certainly love Woot. If you love Woot, you may have certainly heard of Trackwoot and of course, this is the review for you.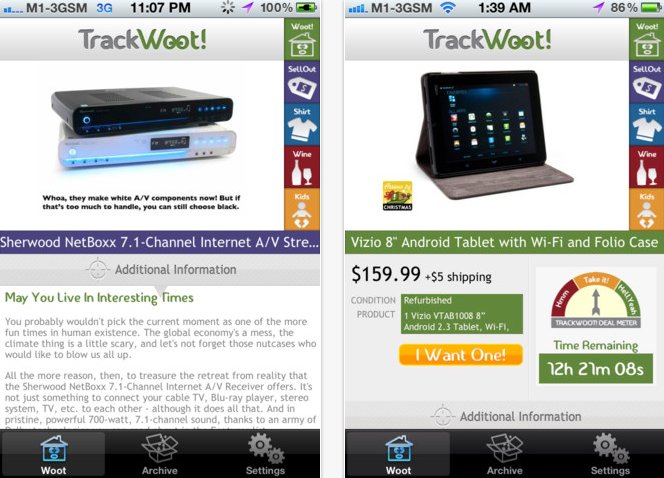 rel="nofollow>
Woot is an online service that sells one item per day at a lowest price. Trackwoot website lets users track the Woot to know all the latest deals. Now, Trackwoot has come up with an app that could help shoppers stay updated about all the deals of Woot. Therefore, it eliminates the need for tirelessly watching the monitor to know what they are selling in the Woot.
After launching this app users can find three sections – Woot, Archive and Settings. Woot section shows the product that is on sale in the site. Users can buy it with a single tap if they are interested. This app has auto-refresh feature, which lets it refresh for every 30 seconds to find whether there are new deals and Trackwoot would also send a push notification to the users, if there is one.
If the users want to see the image in full-screen, they can do it just by double-tapping. This app supports all the Woot sites ( except moofi.woot) like wine.wood, shirt.woot and kids.woot. Trackwoot offers four different sounds for notification. Developers have also promised to add a host of new notification features such as delayed notifications, notifications if the deal is better, notification by item name and notifications by category, while updating the app.
To guide new users Trackwoot shows a help screen on first load. However, it would be great if they can make it as a separate, permanent section, so that users can access it whenever they need guidance. We don't face any hiccups in Trackwoot. It costs just US $0.99 and it is compatible with iPhones and iPads running iOS 4.2 or later.
Price: $0.99
Rating: 4/ 5

rel="nofollow>