We all worry about our phone's battery life and its obvious worrying is a part of our life. When it comes to gadgets we are quite careful in maintaining the battery life and most of the time we fail to do. So some good folks at Game Lingo has came up with an app that helps you to maximize iPhone's battery life.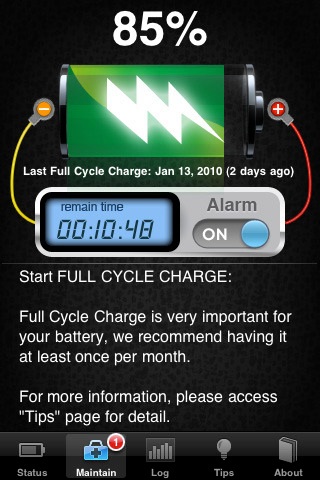 rel="nofollow>
So whats so special about this app comparing to the other battery maintenance app. Lets have a look at it.
Battery Doctor Pro has a well nice home screen that gives you the details of your batteries running time based upon different services. So lets we look at into the different features in Battery Doctor Pro.
Status: The default app screen which drops some information about the running time of different services within the iPhone. You can also percentage of charge in your battery. Nothing so special about this tab.
Maintain: This option gives you some recommended tips to maintain your battery. Charge your iPhone unless it has less than 20% of battery to maintain its life.
Logs: Logs keep track of your charging cycles to plot a performance based chart based on the charging cycles. It very helpful to have a glance of your battery's performance.
Theme: This is nothing but the option to change the color of the battery and optionally you can add some images to personalize the battery indicator. Do you we really need this?
More: The more tab contains three sub menu's.
Tips: Tips to get maximum battery life of your iPhone or iPod Touch
Health: To adjust the health percentage of the battery
Settings and Help: This is an usual option for all the apps to change setting and get help on how to use the app.
With lots of plus points besides very few minus – Battery Doctor Pro leads the race among other battery app with clean and informative app to increase your battery life.
Cost: $0.99
Rating:4.5/5

rel="nofollow>