For a busy business man/women, managing time is so important and its quite hard to remember our appointments when we are at work. OK, I hope everyone agrees with my first statement.
Talking about the availability of event reminder apps you can find as many as you can on the App Store. But certainly only few gets the credit of good app. Here I am gonna review a versatile event to task reminder app – AroundCal. There are many reasons why I took AroundCal due to its solid built, bundled features, good interface and so on. So lets a look at whats all the app about.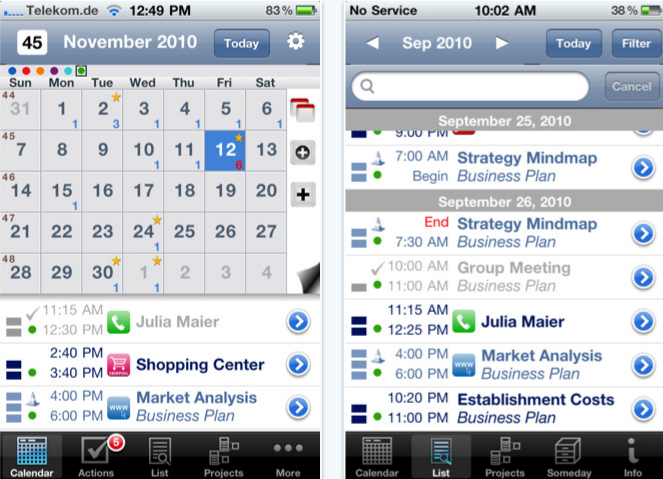 rel="nofollow>
I am not a frequent user of event reminder app, but still I have used many of its kind of app. To me, AroundCal is something which is really gonna help me to plan my schedules. The main key features of this app revolves around Calendar, Actions, Lists, Projects. Pretty important features actually.
Calendar – I would say this is the best feature I liked about AroundCal. The calendar helps us to easily look at all our event or task schedules for the whole month by just tapping on the date. Users can add events or task by selecting the date and tapping on the PLUS symbol accordingly for adding tasks and adding events. A solid build.
Actions – This is a place to watch all your actions that happened today, started, planned and done. So you don't need to roam around to search for these information.
List – List shows you an overview of your planned events or tasks happened within week, month and year time frame. This option is very helpful to copy an event info and paste it on some other day without typing the same thing every time.
Projects – We can add our own projects and assign tasks within any projects. For instance I am having a press meeting at my company. So I will create a new project by name 'Office' and open a task as press meeting. So the next time you create an event related to office you can add it under the 'Office' project name.
After using the app for an hour, still I find its tricks to know more about this app. So at the beginning you will find the app difficult to manage, but besides all these I am really impressed with the priority feature for every task created to easily get to know the most important task.
Finally I do recommend this app for all our reader to effectively manage their tasks and events.
Have a look at the video demonstration of this app after this break
Cost: $3.99
Rating: 4/5

rel="nofollow>