Nowadays road accidents get more and more fatal, as modern vehicles are equipped for high speed driving. Tiredness of the driver is the most common reason for some of these accidents. An iPhone app has come up with a solution to this problem.
Anti Sleep Pilot (ASP) aims at helping driver to avoid accidents and I think, it is the first app of its kind. This app is exclusively designed in a way to calculate driver's fatigue level and suggest him/her to take break while driving. Whenever you prepare to drive your vehicle for a long journey, please launch this app on your iPhone.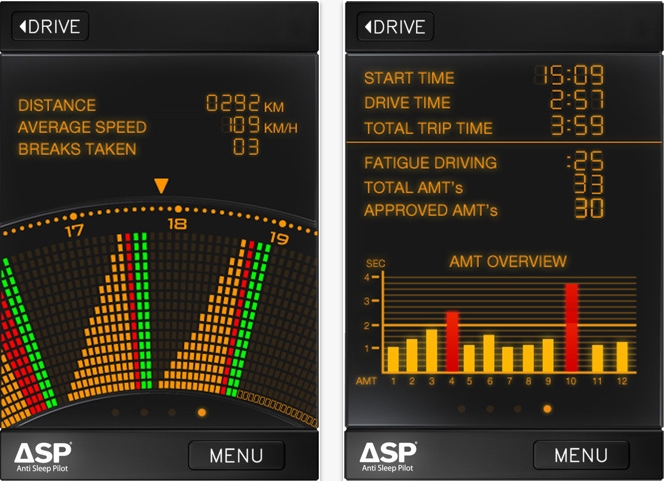 rel="nofollow>
It will ask you some questions about your age, medication, sleeping hours etc., to analyze your profile and calculate your fatigue level. While driving you have to place your iPhone in a car holder, so that, you can see it and use it without removing the eyes off the road. Tap the drive button to make this app to begin calculating your fatigue level. It will do it by analyzing your driving data, profile and initial fatigue level. ASP claims using 26 scientifically identified parameters for this.
Anti Sleep Pilot makes driver to remain alert during driving. It gives simple tasks and he/she can respond by touches. It records the time taken for responding to analyze the fatigue level. When ASP thinks that it has reached a critical point, it will warn the driver with audible and visual signals. It is time to stop driving and take some rest.
Even a 10 minutes break can help you to proceed the journey safely. If you work at night or if you have to drive at night time, you can really give ASP a try. This app costs $19.99 and your life is worth more. It is compatible with iPhone, iPod Touch and iPad.
Rating: 4/ 5

rel="nofollow>