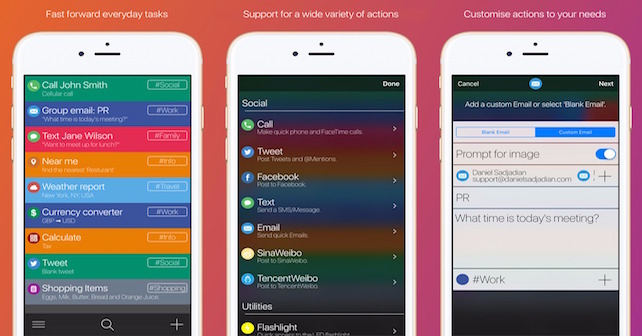 In these present times when just about majority of our everyday tasks and actions can be done in a single laptop or Smartphone, automation is the key to making your daily life easier. After all, many can already attest to getting that much needed breather from doing menial and monotonous (but otherwise important) tasks online just by relying solely on automation. Unfortunately, not many people are aware of this. With the help of this review, not only would people be informed about the features of Actions, but it also hopes to enlighten them about the wonders of automation especially in this online world.
You can use the app in a plethora of different ways, and the readily offers a list of actions for you to choose from. If, for instance, you want to send an email conveniently, then you need to only select that option. Afterwards, you can proceed to edit its settings. You can choose whether to use a Blank Email or Custom Email.
Opting for Custom Email lets you edit the title, recipient, message, and category of each one. Once everything is set, it's now possible for you to send the modified email with a single tap. But, of course, this is just the tip of the iceberg since there are practically dozens of actions that you can automate using Actions (e.g. making phone calls, finding the nearest shops and services, sharing posts on social media, sending text messages, calculating figures, converting currency, getting a list of shopping items, to cite but a few).
Take note that every action you create can be saved as search results, which makes it easier for you to access them via the app's built-in search capability. What's good is that Actions also supports the use of hashtags, which not only helps you find your saved action better, but also serves to categorize them into easier and more viewable lists; the icing on the cake is evidently the additional color coding of each one.
The Quick Access widget lets you add a maximum of 3 of your most common or favorite actions for more convenience and easier access from Notifications. You can set reminders and schedules (with their corresponding date and time) of actions that need to be done as well. That it supports a lot of third party apps only makes this app's value greater in these modern times.
Indeed, the concept of Actions is certainly extremely helpful for people in this day and age. The comprehensive options in every action you choose only serves to highlight the advanced automation capabilities of this app. Even better is the fact that it's entirely unprecedented, as other apps that center on automation only incorporate actions that are woefully unsophisticated (e.g. turning on wi-fi on or off, etc.) compared to the more holistic selections of this app.
Price: $1.99