There are very few press release apps in the App Store. I think it's three or four now. Let us review one impressive app for press releases today.
1888 Press Release – This app gives users all the important news updates through press releases. Through this app users get the latest press releases found in their site 1888pressrelease.com. It has six sections Top PR, Category, Twitter, Saved, Search and More (see image). Readers find the top most press releases in the Top PR section.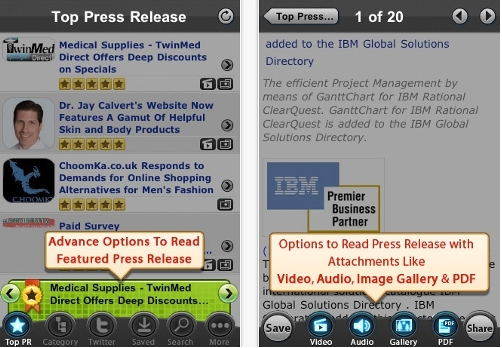 rel="nofollow>
Category classifies the press releases under 21 different categories include Automobile, Computer, Technology, Science and Research etc., Twitter section presents the press release with Topsy URLs. Users can find saved the press releases through the Save button.  The Search button helps them to find their favorite topics.
If users like, they can share any PR on Facebook and Twitter. The featured press releases would be found in tab at the bottom. They can also mail them. This app enables users to read the PR with attached video, audio, image gallery and PDF. The first version of this app is available in the App Store.
This app is free to download. If you want to know all the important updates on the go, We suggest you 1888 Press Release. It gives all news from future of cloud market to Badrinath temple reopening. This app is compatible with iPhone, iPad and iPod Touch.
Rating: 3.5/ 5

rel="nofollow>