Raskin has offered a free update Raskin 1.2.2 to its popular file browser for Mac.
Raskin is a zoomable alternative desktop, that shows computer contents including – folders, documents and application on a single surface. With Raskin, users can find, organize, zoom-in to preview the document etc., The Next Web calls Raskin as "One of the 10 Best Productivity Apps of 2010" and Macworld UK sees it as the forerunner of "more user-friendly era" to come.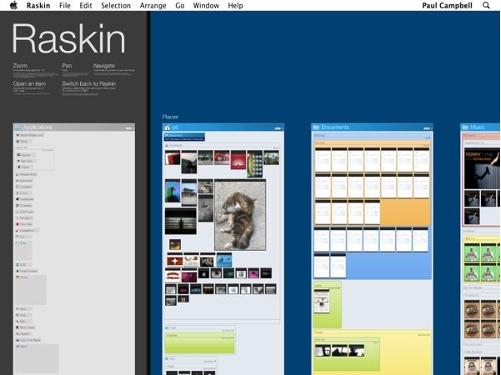 rel="nofollow>
Raskin has announced a free update 1.2.2 to its users. With this update users can get a convenient services contextual menu that provides access to all file and folder related services given by Mac and all other installed custom services. It also has a renaming facility like, "Make Names Web-Friendly" to help web designers.
This update gives an interactive visual overview for the files stored in your computer and offers enhanced compatibility for Quick Look plug-ins. Raskin has modified its license agreement to allow users to install this software on all the Macs they own. So this update is considered as a must for all Raskin users.