Twitter has revised its free iPhone app days after it updated the Android application. This latest update to the Twitter app for iOS devices allows you to share and access everything you see and observe with the outside world with some new auto-complete typing shortcuts and a new interface feature.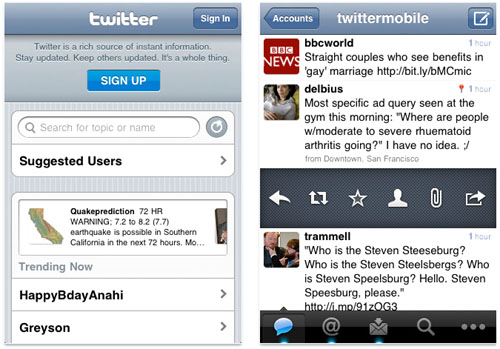 rel="nofollow>
Version 3.3 of the official Twitter app was released on Thursday. It  comes with several bug fixes, easier photo and video uploading procedures, a new feature for finding trends based on your location and a "cleaner, redesigned Tweet compose screen," according to the Apple App Store. Tweeters who use their iOS devices to compose their tweets no longer have to write out the entire usernames or hashtags keystroke by keystroke. This new Tweet compose screen takes care of that with buttons for adding usernames, hashtags, photos, and location.
The update comes with an auto complete feature that finishes both for you after you type in the "@" or "#" character in the body of your tweet. It also automatically shortens URLs to 20 characters for web site links. It has a cleaner interface. iPhone users also have access to a "Quick Bar" that allows them to search for trends, replies and personal messages. The interface is similar to the iPhone's text messaging app which is nice.
But some people aren't happy with the new feature. The "Quick Bar" at the top of screen shows trending tweets and hashtags, some being promoted. It also includes advertisements on the top of the timeline screen, shrinking the screen size and some users complain that they are unable to turn it off which annoys the users.  This is a part of the social network's strategy to make some profit. As much as users like this update they also wish the quick bar to be gone soon.