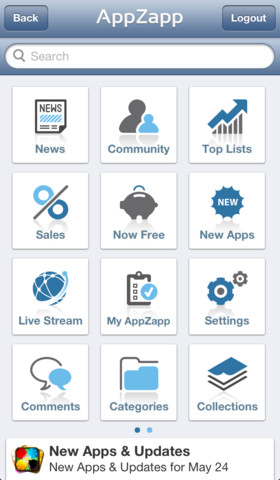 It's often you are in love with an app, but you just can't seem to justify paying the cost for the app. The worry about the price of an app stops today! AppZapp by ConIT AG is a masterpiece in helping you identify the most up to date price on apps.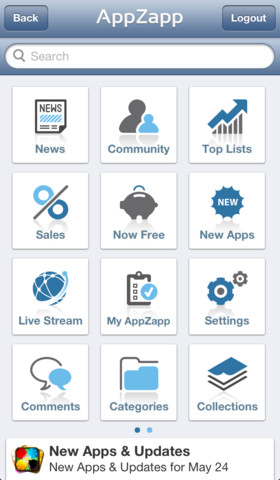 You will join over 2 million users who are already indulging in all the deals they find. There are over 750,000 apps ready for you to download. Apps are going on sale daily. Here's how it works. When an app goes on sale (the price drops) or it goes from $1.99 to free, you will receive an email or push notification on your iPhone and or iPad. You will never have to worry about missing out on another deal ever again.
You will also love the option to enhance your overall experience with the in-app purchase options. For just $0.99, you can purchase the option to remove ads from your app. You can also upgrade your AppZapp for the same affordable price. It's truly a great deal. Also, with all the savings you will experience with this app, to download AppZapp is absolutely free to you. Now that's a real deal!
Your friends will surely begin to wonder how you are gaining deal breaking access to all the latest apps. You can always share your discoveries with your friends and see what they are downloading as well. It's just one big app extravaganza.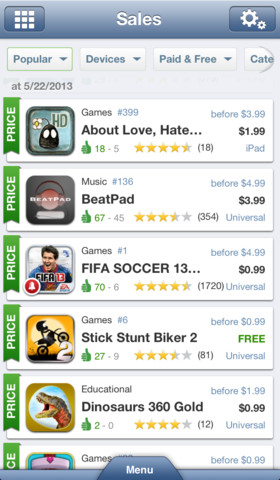 Here are some top features you are sure to enjoy with this download:
* This app is constantly updated with the latest deals and pricing to ensure you are receiving the best price.
* Join in on the community and share all the apps you find with friends and they can share with you too.
* Be patient and your paid app will surely go on sale and become free
* You can find exactly what you need when it's available. The access is endless
* Service performance is unmatched
* You will have all the information you need regarding the app and the seller to feel comfortable making the purchase
* You don't have to settle for just downloading the app, become a member of AppZapp
From a technical stand point, version 5.0 has been completely redesigned to ensure the best in quality and to deliver an amazing user experience. This app requires iOS version 4.3 or later and works the best on the iPhone 5. Though you will be able to use it just fine on your iPod touch as well.
Join the many users and begin saving on your favorite apps today!
Price: Free
Rating: 4/5