Forrester Research predicts app revenue to reach $38 billion by 2015 and smartphones are expected to play a huge part in the application market.
When iPhone was launched in 2007, there were only few apps available. After four years, it is a whole new story now. More than 3,50,000 apps are available in the App Store alone and don't forget other popular platforms like Android, Symbian etc., Forrester Research, the market research company, has come up with some interesting figures, which spell impressive future for mobile apps.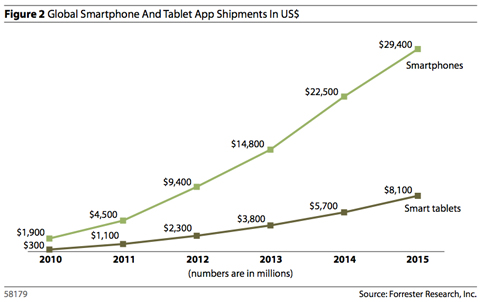 rel="nofollow>
According to the prediction of Forrester Research, the revenue built by customers buying apps for mobile devices will reach $38 billion by 2015 and smartphones alone will create almost $30 billion dollars revenue. (refer graph above). The combined revenues from mobile applications, services and business is expected to reach $54.6 billion.

rel="nofollow>
Another graph reveals that one third of smartphone users download applications at least monthly (above). This report was created by the data collected from AT&T, Verizon Wireless and application creators.