It's the iPhone fever everywhere. The whole world is eagerly waiting for the arrival of Apple's iPhone 5. Apple known for keeping a secret is not making any exceptions here. iPhone 5 is still under wraps which is increasing the excitement and curiosity even more.  What is new on iPhone 5? No one has any idea. But Apple aficionados and numerous blog sites have been reporting for a long time that Apple's new iPhone will have certain features that will be better and solve issues that arose with iPhone 4.
To start with, how about a larger screen? Who doesn't love a spacious screen? Reports keep pouring in saying that  iPhone 5 will have a bigger screen. Apple is keeping the good old design but being generous with the screen size. This is good news! Apple has already performed its little experiment on iPad 2 with its new A5 dual core processor and without doubt it was a huge success. Users were so happy to see the performance, the graphics quality and it is energy efficient.  Will it be a part of the new iPhone? We definitely want to see this member again in the new device.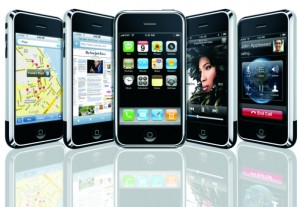 rel="nofollow>
We have already given two thumbs up for the screen size and the processer. Will Apple top that by providing 64 GB of onboard flash memory? Apple considered this option for the iPhone 4. But due to hardware restrictions this was not possible during the design stage. But with a few updates here and there this could be a possibility for the new one. More space means more number of happy customers. Users are very 'picky' when it comes to the color. Is Apple planning to give its users the choice or is it going to go white just like it did for its latest addition of iPad 2? We would also love a dual mode device which will work with both Verizon and AT&T models and it is already revealed that the network chip used in Verizon iPhone is capable of dual-mode communications. But if we are taking iPad 2 into account to discuss the possibilities of what might feature in the new iphone, then this dual mode device will just remain as a mere idea since a strip down of iPad 2 did not reveal such magical chip.
Now the million dollar question- When is the new iPhone going to be launched? We do not want to give any false hopes but numerous websites have given the Apple lovers worldwide, reasons to believe that this might happen in June since Apple has  followed a tradition of unveiling its new products at that time of the year. Waiting for the newbie makes it all the more exciting, isn't it?