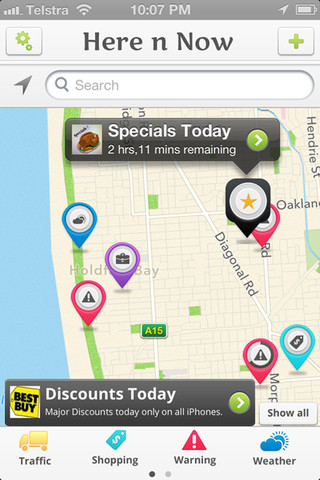 When you are traveling, you must have felt that it would be good if someone were to tell you about the different things going on around you and keep you updated on the latest. There are many applications that help you in finding locations, directions and people. Wouldn't it be nice to have an app that will help you get information about the things happening in your locality? "Here n Now" is an exciting app that serves this purpose.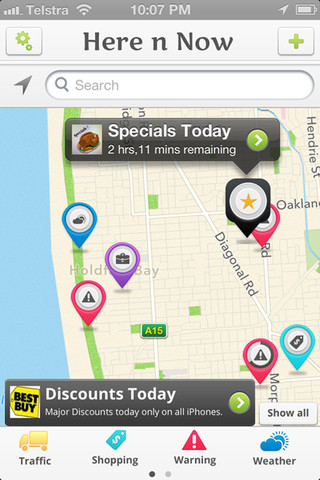 About the app:
Here n Now is an app that updates you about recent activities. It provides information on shopping, weather and traffic, lists lost items, alerts people in your area and does much more. Using this app, you can communicate with other users indirectly through alerts and notifications. The app belongs to the News category in the iTunes App Store.
Working of the app:
Here n Now makes use of Apple Maps and provides a location-based view of a radius of 100 miles. The app alerts you with all that is happening within this area.  It displays notifications for various categories such as traffic, shopping and weather. As each alert lasts for only 2 hours and 15 minutes, all the updates that you see are recent ones. The notifications disappear automatically after the time limit.
You can connect your social network accounts like Facebook and Twitter with the app. Hence, you can view and share alerts with your friends. The app allows you to share information on eat-outs and even items that have been lost and found. Each information pin is displayed in a different color. You can even list items that you have lost while traveling and later send notifications if you have found them. You can also alert your friends about accidents, traffic congestion and other issues. You are provided with options to easily switch on/off the notifications and alerts.
Here n Now is an app that efficiently does the job of a guide. The app is user-friendly, handy and has some cool features. It automatically updates every few hours to display the latest feeds. Alerts can be viewed category-wise to avoid sifting through a long list. Personally, I felt that a Help section should have been included to help users make the most of this app.
Here n Now can be a real blessing to those who are traveling and need to stay updated/inform others about various happenings, on the move. Here n Now is a free app that requires iOS 4.0 or later versions.
Price : Free
Rating : 4/5