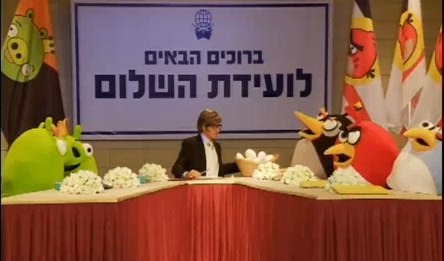 Angry Birds are angry enough to walk out from a peace treaty with the Pigs.
You should be familiar with the successful Angry Birds game which tops the paid apps section in the app store for the past few months.
For others, the story is around the angry birds trying to reclaim their eggs from the evil pigs.
This Angry Birds video is from Keshet TV where the host attempt to come up with a Peace Treaty between the Angry Birds and the Green pigs. The mediator attempts to prevent a conflict from taking place during the meeting. However, things totally goes wrong and not even the negotiator or their theme music can stop both sides from fighting for the eggs.
Check out the video below and do tell us whether the birds should have signed the treaty?