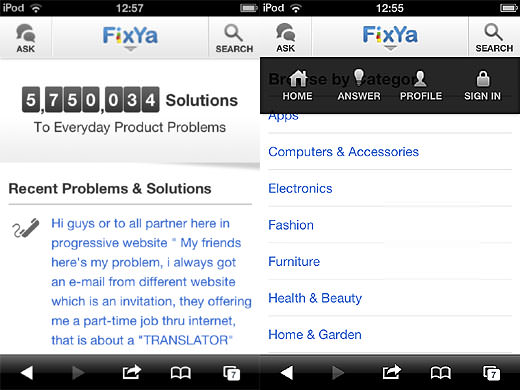 The number of people accessing the internet from their mobile devices are rapidly increasing every day. So websites are also adapting according to the changing trend, and FixYa.com is no exception.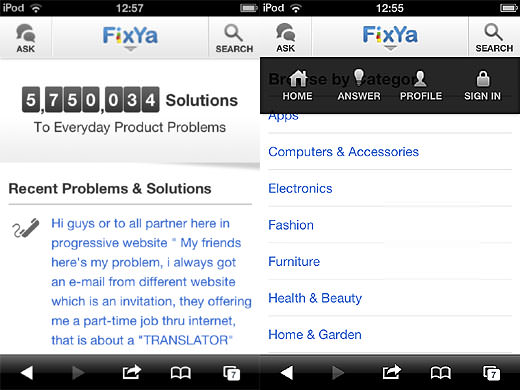 FixYa has made a solution for its mobile users by launching a HTML 5 based mobile web app.
Advantages of using the new web app:
The interface is user friendly.

This will make it easy for the mobile users to scroll through the website without any strain.

You can fetch the important links like 'Ask', 'Search' and 'Find Products' very easily.

It is designed in such a way that everything in the homepage is optimized to be shown within the screen size of the iPhone.

If you want to see more Q&A then you can load it as much you want and it will also be updated regularly.

The search button is located in the top right and the ask button is placed on the top left side so both are easy to locate.

The solutions are placed by popularity and quality.

As it is made in HTML 5 it is very light & it loads very quickly even on slow speed networks, this is the major advantage.
Conclusion
17% of FixYa's monthly users access the site from mobile devices which is almost 24 million, so this a correct move made at the correct time by FixYa. I need FixYa in every walks of my life like "What to do if my car has problem with its engine coolant ?", "How to use my new digital camera ?" and so on, I find the answer for all these questions in FixYa.
I like the way the web app is designed and I like using it, try using www.fixya.com from your iOS device and share your experience in our comments section.