Instapaper – Have you ever used it before? It's an app that is one of a kind that you cannot live without,  especially if you are a greedy reader always looking for more.
Its something that we all experience on a daily basis, when we are at work there are several pop ups that we see, things like  interesting articles, a friend's blog post , news, entertainment and much more, but the problem that most people face would be scarcity of time. We are too busy at work or home to indulge in the pleasure of reading.
When it comes down to it, it's about time management. No matter how little or how much you use the Internet, you're likely always encountering cool and whether it's the latest news and controversies in politics, a friend's blog post about another friend's band, or a Wikipedia page about dancing plagues in early modern Europe. And there is so much of stuff  online to read all in one sitting, and what makes it harder is when you encounter these articles while you're supposed to be working.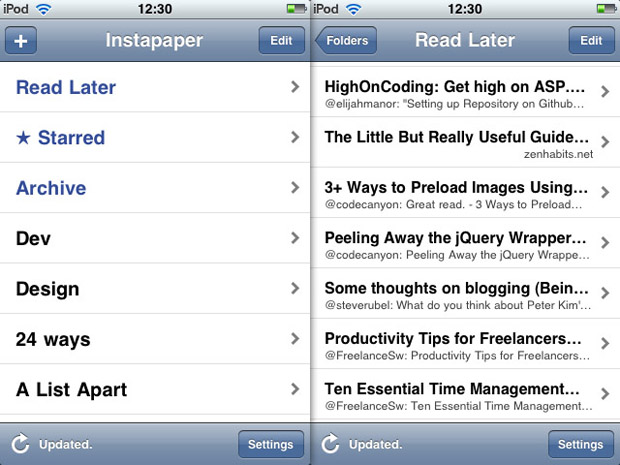 rel="nofollow>
The worrying of missing out has come to an end, just by selecting a menu bar item, Instapaper you could save to your account the article you would like to read. Some time later when your on your own relaxing or thinking what to do when you travel, you could just wick up your iPhone, go onto Instapaper and read to your heart's content about all those raving, dancing Europeans.
Before  Instapaper was considered as a very simple app that was an obligation to own, today with the new developments it has become 10 times better than before since its been social. According to Marco Arment, the app's creator, says "Don't worry, it's tasteful and optional,"as he has  added social capabilities and feels that he might receive user complaints.
The new app now has features that share into Facebook, Twitter, Tumblr, Pinboard and Evernote. Social components, are one of the many features that Instapaper 3.0 has brought to the table, some other benefits involve editors' picks, better image quality, faster downloads and page loads, less space usage, and also enables to search through downloaded content.
After reading through all this the question must be,  what would be the cost that I would have to put up to be a user of the app? The answer would be  $4.99, but it's also available free. But the sad things si when to take free you don't get to go social. Think for a minute and you would be sure that they can't be a better opportunity to put down five bucks. I'm sure that if you are a reader with a great appetite you would be desperate to have more.