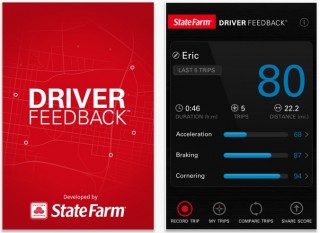 Smartphone users have always had an affinity towards driving related applications. The  DUI checkpoint alert app became "so popular" among the users for all the wrong reasons and the senators asked Apple to ban it for safety reasons.  A new application called the Driver Feedback is using iPhone's many sensors to collect driving data and then uses it to score your road skills. This app will also give you tips and ideas to improve your driving.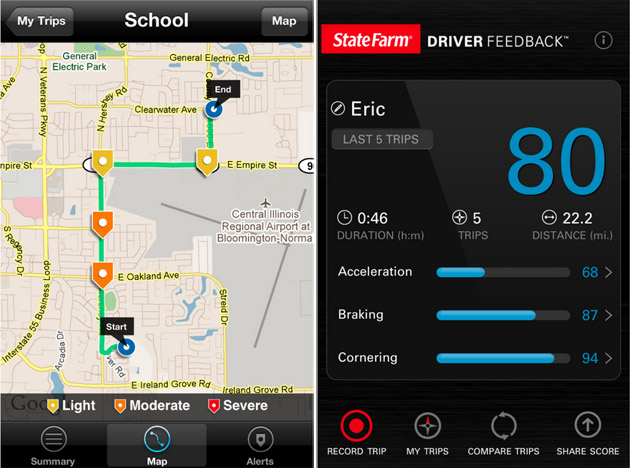 rel="nofollow>
According to State Farm Mutual Automobile Insurance, once activated the app stores your acceleration, braking and cornering data through an iPhone sensor, the accelerometer which is very popular with games mostly powered with tilt-based controls. The accelerometer generates scores of 0 to 100 in these three key areas.  It also makes use of the GPS location for an exact positioning. Trips can be recorded and compared for a detailed analysis and a list view presents with all the alerts or can be overlaid on a map. The program also supports multiple users to whom you can send your trip results via an email or SMS.
This app is a free download from the App Store. Continuous use of accelerometer in the iOS devices has made Apple the world's second –largest buyer of microelectromechanical system sensors according to IHS iSuppli, the research firm. The firm says that Apple has bought $195 million worth of these sensors last year. Compare this to a $90 million in 2009-That is one big jump! Samsung tops the list with a difference of 5 million and Nintendo is in the third position. MEMS sensors also constitute accelerometers, gyroscopes and microphones. iPhone, iPod touch, iPad, iPod nano and MacBooks feature this sensor.