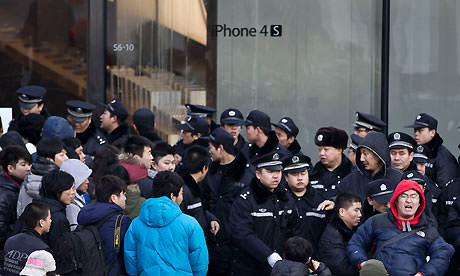 Apple has announced that the company was suspending sales in Beijing and Shanghai after a few incidents of violence.
The much-expected iPhone 4S launch in China has ended up in violence in some places after Apple failed to open the stores in time. Li Yun, one among the customers told that, "I'm very angry. They had said they would start selling the iPhone 4S at 7 am but I was told they were already sold out by the time I got here at 6 am."
Some of the shoppers threw eggs at the windows of the store in Beijing's fashionable Sanlitun district. Following these untoward incidents, Apple announced that iPhone will not be available in our retail stores in Beijing and Shanghai for the time being as they need to ensure the safety of their customers and employees.
However, users can still buy the new iPhone 4S online.