A teenage boy running an online business that sells white iPhone 4 conversion kits has been sued by Apple over trademark infringement. That sounds like tipico Apple! But Apple had also filed an immediate request for dismissal of the lawsuit. Now that is strange!  Apple has filed a complaint against Fei Lik "Philip" Lam and his parents. Philip created the website "whiteiphone4now.com", through which he sold tools and materials that permitted consumers to alter a black iPhone 4 and turn it into white.
The complaint accuses Lam of "infringing and diluting Apple's famous trademarks" through selling his conversion kits which included parts obtained from Apple's manufacturing partners abroad. The kit comes with the white front and black panels with the Apple logo and iPhone trademarks. The site has not been working since the time Apple issued a cease-and-desist letter on Dec,1, 2010.  Lam's website served a lot of customers who were eager to have the white iPhone 4, since the launch of the same by Apple was getting delayed.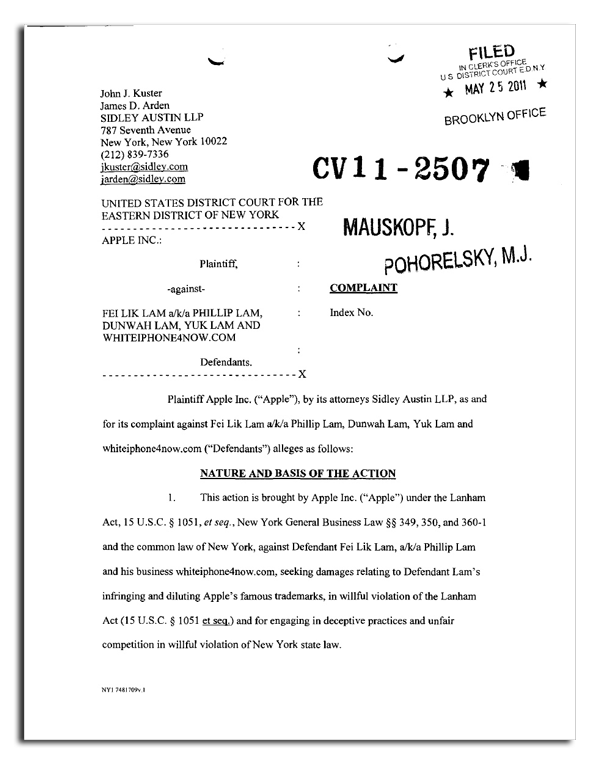 rel="nofollow>
But Apple filing for a voluntary dismissal of the case has led to the belief that Apple might have reached a settlement with Lam's family, out of court. The lawsuit also stated that Lam has bought parts from an "unauthorized supplier in Shenzhen Province int he People's Republic of China" This supplier has bought the white panels from the shops of Shenzhen and Apple claims that Lam is well aware of where the product came from.
The complaint read,
Defendant at all times knew that Apple has never authorized the sale of white panels for its iPhone 4 mobile devices, and that he obtained these parts from sources that were not authorized by Apple or any of its suppliers to sell them.
It was last fall that Lam came under scrutiny for making six figures from buying white iPhone 4 replacement parts from outside the country and started building his versions of Apple's smart phone.  Reports stated that Apple was demanding damages for the illegal profits made by Lam which was more than $130,000 as of November 2010. But with the dismissal of the case, we are not sure how much Apple has settled for, finally.