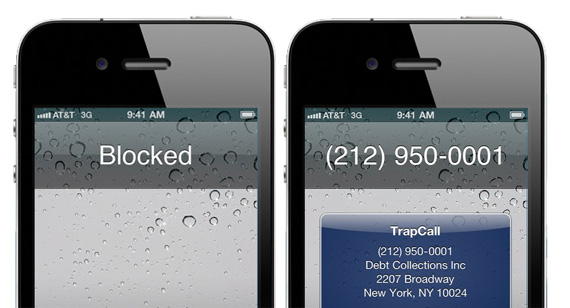 It is a well known story that Apple  doesn't approve of any mobile Apps that easily. It took 201 days for Apple to review an application by Tel Tech Systems Inc. and has given clearance TrapCall application which will put an end to  all harassing calls from private numbers and will also reveal the name and address of the caller .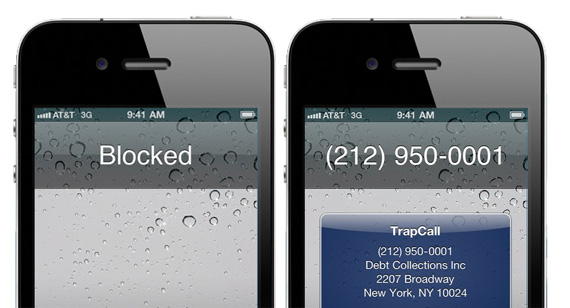 rel="nofollow>
This free app requires a  paid TrapCall service starting from $5 a month. Not very pricey for saving users from unwanted phone calls.  The developers say that it is the only application in the world that is capable filtering unwanted calls. But why did it take so long for Apple to approve this App? Some think that their method for blocking *67 ID callers is probably what took Apple a long time to review their application. According to Nate Kapitanski Tel Tech System's product manager,
The whole situation was incredibly frustrating as we had a real hard time even getting a response from Apple after 2-3 months as to what was possibly holding our app up.
But how do they do the whole business of unmasking? It is simple. When you receive a call, press the power button twice to decline it and TrapCall will work its magic. Within seconds the number gets unmasked and you can get the name and address of the caller if it is available. via a text message or push notification.
Some still doubt the technology behind call unmasking and the product Manager Nate Kapitanski has given a clear explanation:
The "push the power button twice to reject the call" thing sort of makes it sound like we are doing something with the hardware that we're not supposed to, but this is really just the easiest way to tell users that they have to ignore or reject the calls for their conditional call-forwarding to send the call to our 800 number for unmasking.


The service is actually 100 percent legal as we've even dealt with the FCC on this. The reason the app is legal is because the way the service works is that missed and rejected calls get forwarded to an 800 number for unmasking. The FCC has made it clear that because the owner of an 800 number has to pay for every incoming call to their number, that they're entitled to see who is calling them – even if the caller ID is blocked.
Whatever said and done this particular application is a great gift to a lot of people dealing with pranksters and annoying pests for callers.