Earlier this month, we saw a jailbroke that let you to run Android on iPhone 2G and 3G rel="nofollow"> along side with iPhone OS. This news has drawn many iPhone users to try Android running on their iPhone. As of now Android can be installed only on iPhone 2G and 3G, but now its time for those iPod Touch users to rejoice. Android is coming soon to iPod Touch from the same developer who ported Android into iPhone 2G and 3G.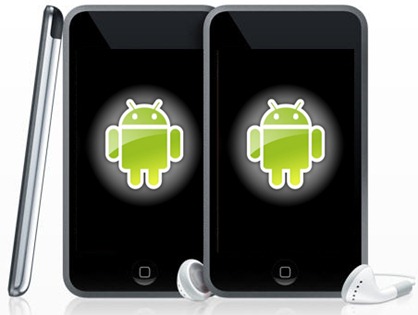 rel="nofollow">
Its a good news for iTouch music lovers, to make their device capable on running Android. The developer is also working on an update to bring multi-touch support in Android for iPhone and hopefully he could launch that feature with iPod Touch jailbroken to run Android.
In a blog post written by the developer says
Meanwhile, I am working on some stuff that is slightly more fun. Last night, I brought openiboot for the first-generation iPod touch up to scratch so that it supports all the features the other ports of openiboot support: sound, multitouch and SDIO (for WLAN) are the notable things I had to fix. Earlier today, I figured out how to drive the piezoelectric tweeter on the iPod touch.
Hopefully, we'll be able to roll out the iPod touch binaries with the 3G binaries and get on with the real work: power management and the little details that will make Android a truly viable alternative on our three early ports.
I am eagerly expecting to port Android on my iPod Touch and see it in action and I don't think I can really wait.
[via LinuxoniPhone]
Image courtesy [Redmond Pie]