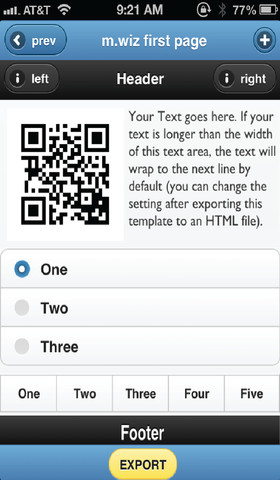 Web developers, pay attention. This is an app created with you in mind. If you have been searching for a tool that will allow for web development on the go, then this is the app you have been waiting for.
M.WIZ, by Yoon Hyup Hwang is an absolute amazing solution for creating mobile website right from the palm of your hand. This app is compatible with you iPhone and iPad devices. It requires iOS 5.0 or later. You will experience optimal function when using the app on an iPhone 5.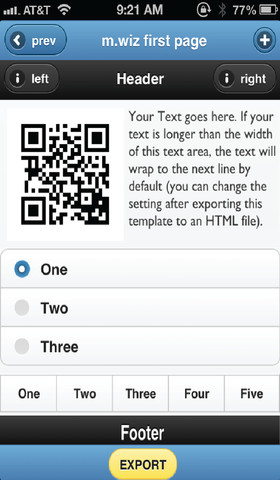 The design is clean and easy. The steps to creating your mobile web templates are super easy. Even the most novice user will be able to figure this app out. The process is so simple, all you are responsible for doing is point, drop, drag, and you have the webpage you need via your mobile device!
Don't worry about HTML formatting, etc. M.WIZ is designed to take care of all the hard work with creating webpage. Once you've created the design you are looking for, you finish it all off by emailing the HTML file to your personal email address. It's truly that easy. This app is a web designers dream.

The most unique feature of this app is the cost. For all that you get, right now for a limited amount of time, you are able to download this app for only $0.99. For less than $1.00, you are able to get a webpage created. This is the bargain of all bargains.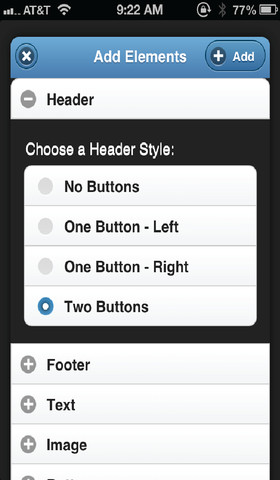 M.WIZ is a very new app. However, a few web developers have be able to use the app and have nothing but great things to say about its functionality. Here's what they have to say:
* This app is a developers dream. Just a few points, clicks and you have a clean, user friendly webpage created. Excellent!
* In less than 5 minutes, I was able to develop a webpage from my iPhone 5. I can't wait to see this app developed further.
Price: $0.99
Rating: 4/5